Overview
Research
Develop your own rule-based strategies with no programming required! Both rank novices and experienced quants love our intuitive interface. Portfolio123 is a time tested and trusted service. We've been refining it since 2004.
Get Started
Research as a Solution
Research is our solution for institutional and retail investors who want to construct, validate and deploy rule based strategies in a fraction of the time it takes using traditional quant tools.
Best-in-Class Data
Portfolio123 is powered by data trusted by both Wall Street and academia: FactSet. Data by S&P Global Market Intelligence's Compustat and CapitalIQ available via a data license.
Unbelievably Fast Engine
You will not believe it until you see it. Run simulations of hundreds of factors in seconds.
Web Based and Secure
Everything runs from your browser. No need to install any software or hardware. With top class security measures, your data is secure too.
Easy to Learn
Simple and intuitive interface presents systems in a natural, readily understandable way. No manuals necessary (although we have those too).
Connect
A lively community of professional investors, skilled market participants, and Portfolio123 staff will aid, entertain, and educate.
Years of Experience
We know data. We have been providing the best research tools available anywhere since 2004. Our team's Wall Street experience goes back all the way to the 1980's.
Rules-Based Investing is Flat Out Better
Converting an investment strategy into a set of rules cuts down research time, helps to eliminate emotions and helps uncover stocks you previously had not heard of.
Research Tools
Multifactor Ranking
Classify your universes to find what you need
Ranking systems can be based on fundamental and/or technical factors. Each factor can be ranked against universe, sector or industry.
Stock & ETF Data
Access to the best-in-class data
Point-In-Time data with no survivorship or look-ahead biases. Our datasets include fundamentals, estimates, corporate actions, and industry and sector classification.
Strategies
Where all the components converge
Create a complete strategy using an intuitive interface. Incorporate ranking, separate buy and sell rules, custom universe, position sizing and hedging.
Screening
Scan the market in the present and past
No computer code required. Strategies are expressed in spreadsheet-like formulas using pre-built factors (like Piotroski F-Score) and user-defined operations like medians.
Book of Strategies
Test strategies together
Run simulations of multiple strategies together with different weights, and check the historical correlation between strategies.
Realistic Simulations
Test using real world assumptions
Test all your systems historically. Your screens, strategies, or ranking systems can be simulated using slippage and commissions for realism.
DataMiner & API
Get even faster results
Run hundreds of operations with one click. Our solution for direct access to our point-in-time factors and simulation engine.
Learn More
Stunning Coverage
Over 15,000 current US, Canadian, and European stocks are covered, with many thousands more in the past.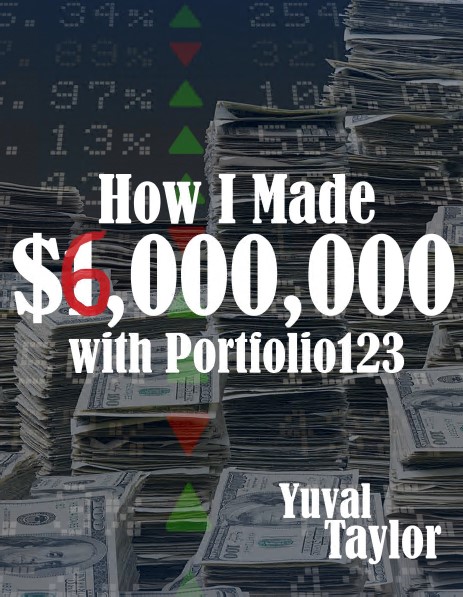 E-book
How I Made a Million Bucks
with Portfolio123
Read how one of our users has used Research to find his financial success.
Use Cases
What can you do with Portfolio123?
Academic-type long-short risk factor studies comparing baskets of 100+ stocks
Multi-factor Value ranks applied to a custom universe of companies with good growth rates
Market timing macroeconomic and technical models
Run hundreds of simulations with permutations to test for robustness
Position sizing based on volatility, sales, or any other formula
The Devil is in the Details
Consider these questions before subscribing to an alpha research product:
Do the people in the development team have the necessary know-how?
Null data is everywhere in financial ratios. Is it handled seamlessly?
Are press-releases being handled reliably and point in time?
Is the data free of look-ahead bias, survivorship bias, or artificial lagging?
Are issues and compromises being communicated transparently and honestly?
Is the cost of transactions and liquidity being taken into account in simulations?
Is every data point Point-In-Time, including amended data, estimates revisions, and industry classifications?
Are dividends awarded on the ex date and paid on the pay date?
Is your voice heard? Is the product actively and passionately developed?
Portfolio123 answers yes to all of them.