Solutions for Researching Stocks and the Market
Skip Intro…
Researching companies is a very straightforward clear-cut process. Knowledgeable investors know exactly what they want to see and how they would like it to be presented. So it should seem as if excellent research resources ought to be widely available. But many, too many, find that once they try to dive in, they find a surprising and disappointing lack of usable research. Here's the source of the disconnect: there is indeed, an abundance of research available on the web that magnificently serves the needs of . . . someone else.

Whose needs are being served?

Is the information truly presented with the goal of giving YOU the information you want and need, with the aim of giving YOU the insights you seek? Or perhaps the presentation has been optimized such as to help the ad-sales team best monetize a free-to-user web site. On the other hand, it may well be the case that the provider put forth a sincere effort to make the site relevant to investors — investors that bear no resemblance to your research style and goals.

Portfolio123 Research: Designed for YOU

With over 10 years experience listening to investors we have create a set of research tools you will not find elsewhere. With just the right amount of customization and thoughtful presentation we serve yours needs, without overwhelming you or trying to impress you. And… if you don't find what you need, let us know or submit a feature request. Hundreds of suggestions from our users have been implemented.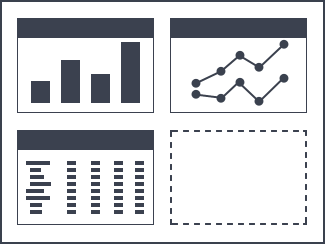 Data Panels
Create your own research report using a variety of data panels. Use them to research new stocks or for a quick health check-up. A variety of panels are available that can be grouped in different pages, and in any order, to create the research YOU want. Panels like:
Annual and quarterly statements in table or chart formats
10 year trends of key ratios like Gross Margin
Estimate surprises and revisions
Peer and S&P500 comparisons for key ratios
Company basics and external RSS feeds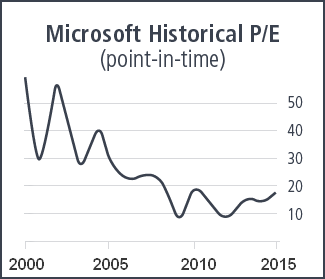 Point In Time Charts
Our Fundamental Charts let you chart any factor or function vs time. But unlike other similar services that take historical statements from today to create the historical data points, we travel back in time, one week at a time, reverse out all future events and calculate each data point.

For example, would you like to know Microsoft's lowest P/E since Jan 2000? Simply chart the P/E in the Fundamental Chart for the answer. In seconds you discover that Microsoft's P/E dipped below 10 only twice in the past 15 years.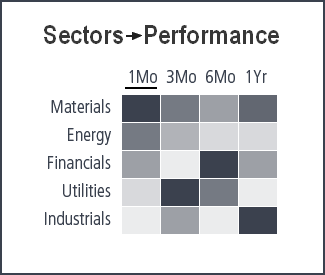 Industry and Sector "Heatmap" Browser
Do you want to see the best performing Sector in the past week?

Are you looking for the Industry with the highest Yield?

Our easy to use Industry & Sector browser lets you do quick Top-Down research on the Global Industry Classification Standard (GICS) comprised of: Sector, SubSector, Industry and SubIndustry.

Every day we calculate a variety of group ratios for performance, fundamentals, estimates and correlation coefficients. The browser lets you easily sort by any column and drill-down down through the taxonomy down to the stocks.

The Portfolio123's GICS browser is another example born out of our users' requests.
Others Have Tried... We Did It Right!