Solutions for Creating Your Own Strategies
Skip Intro…
Converting an investment strategy into a set of rules has many advantages:
It cuts down research time since only a handful of stocks need to be considered.
It helps to eliminate emotions.
It helps uncover stocks you previously had not heard of.
Rule based investing is absolutely the best way to find stocks, and there are many products that help you do that. It seems like every day there's someone new claiming that you can become Buffet or Graham with a few mouse clicks. That's all fine. We believe it's possible to convert investment styles into computer programs. However on what foundation are they basing their claims on?
The devil is in the details
When considering a product for rule based investing
DO ASK THESE QUESTIONS
:
Do the people in the team have the necessary experience?
Who provides the raw data? Only two providers are worth considering, and only one of them is suitable for backtesting.
Financial data is full of N/A numbers (not available). Are they being handled the best possible way?
Press releases move stocks. Are press-releases being handled?
Strategy design involves running simulations. Do they have look-ahead or survivorship biases?
Is the cost of transactions being taken into account in simulations? A great system can completely fall apart when real world assumptions are included.
Is every data point Point-In-Time? Pay close attention to amended data, estimates revisions, and industry classifications.
What about dividends? Are they using Ex-date or Pay-date? Are they being used at all?
What about data timeliness? Are they simply using the period end date and lagging the data X number of days?
Here at Portfolio123 we have addressed these questions, and many more. With best-in-class tools and data Portfolio123 can help you create, refine, and launch your rule base strategies.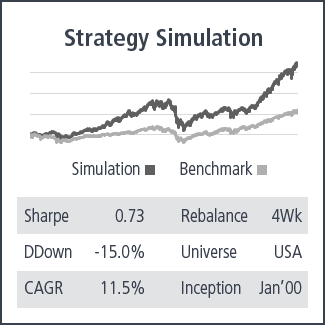 Strategy Backtest
Portfolio123 allows you to test a strategy in the past to see how it would have performed. You can now run backtests of your screens or portfolio strategies with unprecedented
realism
and
speed
.
Simulator Key Features:
Test your system from January 1999 with a complete dataset
No survivorship or look-ahead biases: Analysis is Point-In-Time
Include realistic assumptions from trades: commission and slippage
Accurately accounts for splits and dividends
See all transactions, risk and performance statistics, and much more
No computer code required. Strategies are expressed in Excel™ like formulas and rules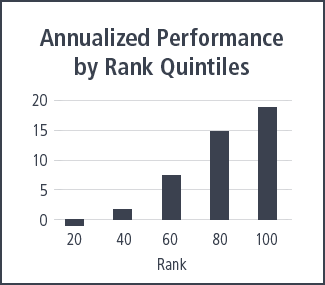 Multi Factor Ranking System: Design, Test, and Use
A Ranking system sorts stocks from best to worst based on a set of weighted factors. It can be used in many ways, like as a quick health check-up, or to construct a portfolio of a certain number of positions (like the top 10).
Portfolio123's Ranking System are easily created, yet allow for great flexibility. Once created their effectiveness can be tested using tools like the Rank Performance which generates a "rank bucket" performance chart. This tool lets you quickly determine if your ranks are correlated with future returns.
Ranking System Key Features
Various pre-defined ranking systems built on a common theme to use as-is or modify
Ranking systems can be based on fundamental and/or technical factors
Rank factors against universe, sector or industry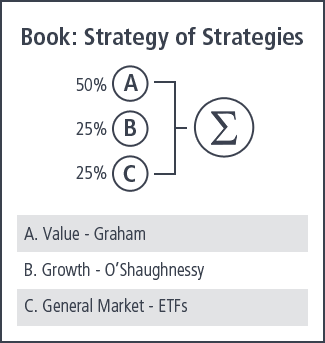 Strategy of Strategies: the Book
A strategy, such as "value" or "small cap", can go through periods of under-performance, also called cycles. These under-performance periods can last a long time (longer than an investor can stomach). A great example is Warren Buffett's Berkshire Hathaway Inc. During the internet bubble of 2000, Berkshire stock under-performed for
three years!
That is a long time watching everybody else make money.
If you think of Berkshire as a value strategy rather than a company, the best way to alleviate the under performance periods is to diversify into different strategies. Portfolio123's "Books" lets you easily design, test, and launch a portfolio comprised of different strategies.
Key Features
Run simulations of multiple strategies together with different weights
Check the historical correlation between strategies
Launch a strategy of strategies and get rebalance emails
Combine your own strategies with strategies of other users with Designer Models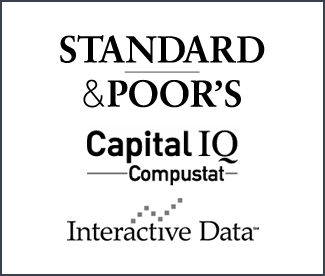 Data
It's all about the data. Our engines use the best data in the business to create Point-In-Time values starting in 1999. We currently cover the USA and Canadian exchanges.
Data Key Features
A complete set of pre-built custom ratios and functions
Quickly find what you need with english-like searches
Historically correct industry classification (GICS) from S&P
Custom built benchmark for every GICS group
A comprehensive set of data for: estimates, short interest, insider
Many Other Tools and Features
Step by step tutorials to help you get started
Create your own Breadth Indicators or benchmark with our Custom Series tool
Power tools like the Optimizer allow you to run multiple combinations to test a system's robustness
Create screening reports to display the data-points you need
In our Stock Pages you can chart a stock's rank vs. the price to see if it's correlated
Collaborate by exchanging comments and ideas with our community or in private groups
Others Have Tried... We Did It Right!